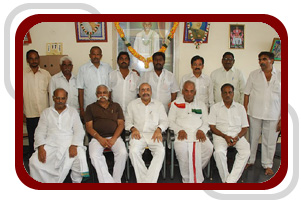 SVNR Reddy Hostel for Boys and Smt & Sri VKRSR Reddy Hostel for Girls are charitable organisations running with service motivation on no-loss no-profit basis by providing hostel facilities for merit students from economically backward and agricultural families from Reddy's community. These facilities are provided by donations from charitable people from Reddy's community. We are providing shelter for other communities students also on humanitarian grounds.
"Vidyaa Daanam Mahaa Daanam" We believe in the principle of helping in education is the best help as it helps every one to become a good person in life with studies, knowledge, values and character which helps their family and the society to be in a better position.
"Education is the most powerful weapon which you can use to change the world."… Nelson Mandela
Boys Hostel History:
The Guntur District Reddy Janasangham was registered in 1933 under Societies act 1860 of Andhra Pradesh with the following committee:
Guttikonda Anji Reddy Garu
Tamma Ranga Reddy Garu
Gade Venkata Subba Reddy Garu
Bhimavarapu Basivi Reddy Garu
Gade Ramakoti Reddy Garu
Komma Reddy Venkata Reddy Garu
Avutu Rami Reddy Garu
In 1975 The Guntur District Reddy Jana Sangham was changed as REDDY JANABHYUDAYA MANDALI. From, 1978 the hostel was called by the name SRI VUDUMULA NARSI REDDY REDDY HOSTEL and Managed by Reddy Janabhyudaya Mandali.
Girls Hostel History:
The ANAVEMA TRUST was registered on 28.06.2004 under Regd. No: 97/2004 of Andhra Pradesh. Foundation stone was laid on 14.05.2005 and opened on 07.06.2007 with following trustees.
Vudumula Sambireddy Garu
Vudumula Anji Reddy Garu
Vudumula Ramakoti Reddy Garu
Vudumula Srinivasa Reddy Garu
Challa Anji Reddy Garu
Vanukuri Sura Reddy Garu
Yeruva Bali Reddy Garu
Munnangi Sambi Reddy Garu
Nara Anji Reddy Garu (Auditor)
The Hostel is called by the name Smt & Sri VUDUMULA KOTIRATNAM SAMBIREDDY REDDIES LADIES HOSTEL and managed by Anavema Trust.
Present Governing Body for both hostels:
| | | |
| --- | --- | --- |
| President: | Challa Anji Reddy Garu | 94402 49834 |
| Secretary: | Vanukuri Sura Reddy Garu | 94402 49843 |
| Treasurer: | Yeruva Bala Reddy Garu | 92464 86608 |